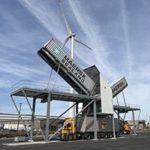 Successful globalisation strategy with Asia and South America as drivers
After recording major growth in 2017, the Bertschi Group continued this trend in 2018 with turnover rising by 8% to CHF 960 million. As in previous years, the company's global units achieved the highest growth figures, and now account for a third of the Group's overall turnover.
The markets in Asia and South America provided the strongest momentum. Two other significant driving factors were the Chinese market and the doubling of storage and filling capacity at Bertschi's chemicals terminal in Singapore for distribution in south-east Asia. In addition, Bertschi was able to integrate its subsidiary in São Paulo – founded the previous year – into its global network, which had a positive impact on growth of the Group in 2018.
Quality issues in the European rail freight transport segment had an adverse impact on the bottom line for European business.
Record investment in digitalisation and build-up of capacity
In 2018, Bertschi invested significant sums in its future, with software development and digital transformation continuing apace. The development and roll-out of the TruckTracer App was a milestone for the company.
The company also invested heavily in the expansion of its tank/silo container fleet in 2018 and now has 34,500 units, a 9% increase. Major investment was also made in terminal and warehouse capacities, in particular at the Group's sites in Singapore, Antwerp and Schwarzheide (eastern Germany).
Getting the new year off to a good start
The outlook for 2019 is generally positive, although a few economic uncertainties remain. "Our aim is to keep growing in 2019, which is why the Bertschi Group will be investing heavily once again in digitalisation, the container fleet and its terminal and warehouse infrastructure. Our plan is to continue to expand our presence in Asia and bolster our position in Europe," explains Bertschi.
A new transshipment centre for the import, handling and storage of plastics from overseas entered into service at the Port of Antwerp in 2018. The site will be expanded in successive stages over the next few years into a major chemical logistics terminal. "This will enable liquid dangerous goods to be stored and distribution transport in Europe to be dispatched directly from the terminal via rail to European consumption centres. We are underlining Bertschi's sustainable corporate strategy by shifting freight distribution from road transport to the more environmentally friendly, safer option of rail where possible" says Arnet (CEO).