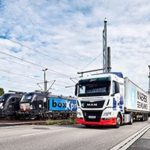 Terminal Singen is a road and rail cargo hub serving southern Germany and the tri-border region, with a focus on the Lake Constance area, Austria's Voralberg region and eastern Switzerland. Additionally, the new direct service will provide customers in this region with better access to intermodal and maritime transport options by connecting hinterland and inland traffic with the seaport. In addition, the new EGIM service is an attractive alternative to other high-traffic terminals throughout the Baden-Württemberg region.
Initially, the new EGIM Singen-Hamburg direct service will offer two roundtrips per week with a total capacity of 88 TEU per run and direction. The use of fixed rolling stock allows EGIM and its clients a high level of flexibility while facilitating optimised load factors and transport times. In addition to the pure rail service between Hamburg and Singen, EGIM also offers customers transport by truck to cover the first and last miles of the transit route from terminal to a shipment's final destination.
As a leading intermodal logistics service provider, EGIM is playing a key role in the transition from road to rail cargo transport in Germany and Europe. The new Singen-Hamburg direct service will help to reduce the overall amount of truck transport through the heart of the continent. This will result in significant reductions in emissions and is supported further by EGIM's use of the latest-generation e-locomotives on these routes.
Niels Riedel, Head of Sales at EGIM, explains: "With the launch of our newest direct connection to Singen, our goal is to provide a better balance of transport service options in the immediate and neighbouring regions. This will give our customers an efficient and attractive alternative to existing services." He adds: "Furthermore, we see our cooperation with the container terminal TSG Singen as an ideal opportunity to further expand our maritime logistics business. Until now, logistics in this region have been more focused on intracontinental traffic, with comparatively limited access to maritime routes. With our new service, we're taking a step towards changing that."