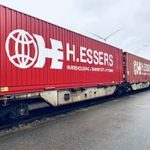 Genk linked to Greece and Turkey
Trieste is one of the busiest ports in Italy. The new line is the very first direct railway link from Belgium to this important hub on the Adriatic Sea. Lineas Intermodal set up the routes between Euro Terminal Genk, near the headquarters of H.Essers, and Samer Terminal in Trieste.
H.Essers will use the railway for so-called secured/cold-chain transports to Greece and Turkey. The cargo units are taken by train from Genk to Trieste, and then by ship to the port of Patras, Greece and the ports of Istanbul, Pendik, Izmir and Mersin in Turkey. "…the new route is a good example of a synchromodal solution where goods travel as much as 90% over rail and water", says Gert Bervoets, CEO of H.Essers.
Safebox connected to Genk control tower
As many Safebox containers as possible will be used on the new link. This 45-foot container was specially developed for H.Essers' secured/cold-chain transports, focused on the three strategic markets: chemicals, pharma and high-value products. They are electronically locked and monitored 24/7 from the company's control tower, allowing H.Essers to intervene quickly if necessary. In addition, part of the Safebox containers are equipped with temperature control, making it possible for the control tower to monitor the cooling units so that temperature-sensitive goods can be transported unescorted to Greece and Turkey.
Gert Bervoets: "We are able to handle almost all classes of dangerous goods, including liquid bulk transport from tank container specialist Huktra, which was recently taken over by H.Essers." 2
Sustainability and synchromodality
Following the train connection to China that was set up in 2017, the international synchromodality network of H.Essers – freight transport over a combination of road, rail and water – is being further expanded. "The new rail and waterway connection to Greece and Turkey allows us to eliminate 9,000 road transports each year," says Gert Bervoets in explaining the network. Sam Bruynseels of Lineas agrees: "With nine times less CO2 emissions, six times less energy consumption and eight times less air pollution, rail is an indispensable asset for making our transport sector climate-friendly, as well as tackling the increasing problem of congestion. This is the kind of synchromodality we need."