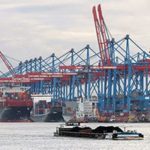 In 2018, this category accounted for totals of 46.8 million tons – up 2.7 percent – and 2.44 million TEU – up 4.7 percent. More than 60,000 cargo trains with around 1.6 million freight cars were handled during 2018 on the Port Railway network alone. This topped the record total set in 2016 and extended Hamburg's position as Europe's leading rail port.
To a large extent this strong position is based on the large number of liner services linking Hamburg with the great majority of the 1,000 seaports worldwide. "Right at the outset of the new year, the Port of Hamburg is off to a flying start as it accepts four new liner services. With weekly sailings from Hamburg, these four Transatlantic container services also link ports on the US East Coast plus others in Mexico," explains Axel Mattern, Joint CEO of Port of Hamburg Marketing (HHM).
In container transport with China, along with ocean-going vessels as the main carrier, there is a distinct increase in transport by rail. China again remained the Port of Hamburg's largest trading partner in 2018. One in three of all containers handled in the port are for, or from, China.
HHM's Joint CEO sees tremendous growth potential in logistically linking the countries of the Baltic region with the Silk Road. No centre anywhere else in Europe offers this variety of direct sea and rail services with China, emphasizes Mattern. "The short distances between the high-sea and hinterland services by all carriers make Hamburg especially attractive as a hub for China trade. "
Ingo Egloff, Axel Mattern's Executive Board colleague, points out that commencement of construction work as part of the fairway adjustment on the Lower and Outer Elbe represents a positive signal for shipping companies and shippers in Germany and internationally. He is delighted that major shipping company alliances are already announcing that after the deepening and widening of the Elbe, they will be making Hamburg their first discharge and last loading port in Northern Europe for their container services.
As a broadly based universal port, the Port of Hamburg provides more than 156,000 jobs in the Hamburg Metropolitan Region. The port is also a significant industrial location and, in generating added value of 21.8 billion euros, is also of immense importance for the entire German national economy.