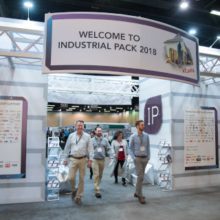 Both events are free-to-attend and both will be held at the Cobb Galleria
Centre in Atlanta, March 27-28, 2019.
By co-locating, visitors to Industrial Pack and Design-2-Part will have the unique opportunity to find solutions that cover the entire manufacturing and packaging supply chain.
"Co-locating our two events will bring high-value to visitors working in the manufacturing and packaging supply chain. Visitors to Design-2-Part will be able to go next door to Industrial Pack to find solutions that protect, package and ship their products. It will be a unique one-stop-shop experience."

Tim Rusbridge, Event Manager – Industrial Pack
South east Design-2-Part Show is the region's largest sourcing event and best place for engineers and buyers to meet face-to-face with high-quality, reliable American job shops and contract manufacturers. From design ideas, to custom and stock parts, through final assembly, you'll find the solutions you need. For more details visit: Design-2-Part Show
Industrial Pack Expo brings together over 2500 visitors from the most innovative, multi-sector global corporations and over 150 exhibitors from the top industrial packaging suppliers.

This unique two-day event is the only industry gathering dedicated to the industrial, transit, reusable, and protective packaging sector.
Industrial Pack includes a Conference Program that covers the most talked about topics and lead by top industry experts. Plus unique networking opportunities including Pack Testing LIVE and Industrial Pack Awards, an evening honoring excellence from the most innovative packaging businesses.
For more details visit: Industrial Pack Expo

Twitter: @IndPackAtlanta

FaceBook: @IndustrialPack

LinkedIn: www.linkedin.com/groups/8601017