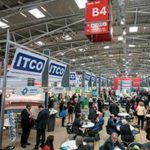 ITCO Members will be displaying a wide range of equipment and services, with the majority of the world's leading tank container operators, leasing companies, manufacturers and component suppliers taking part. In addition, there will be tank container surveyors and inspection companies, together with a number of leading tank cleaning and repair facilities.
With over 70 Members exhibiting, this will be the biggest Tank Container Village that ITCO has so far organised.
Practical Information: transport logistic 2019 and visiting the Tank Container Village
The ITCO Tank Container Village will be in Hall B4 of the transport logistic 2019 Exhibition. To access the Tank Container Village, you will need an entry ticket to the Exhibition. All relevant information about transport logistic 2019 can be found on the event website: www.transportlogistic.de
You will find details of how to register for visitor tickets, exhibition opening times, Visas for Germany, Munich travel and recommended hotels.
Welcome Reception: Tuesday 4 June 2019 – Sponsored by CIMC
ITCO will be organising its Welcome Reception on Tuesday 4 June, from 18:00 to 20:00. All Members and Visitors are warmly invited to attend. We are very pleased to announce that the Sponsor of the Welcome Reception will be CIMC