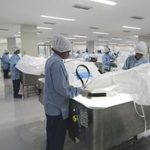 Abdul Mumit, Managing Director of Dutch-Bangla Pack Ltd, says the expansion was fuelled by growing demand in the market (especially for value-added FIBCs in the food and pharmaceuticals industries) as well as continuous investments in sales and distribution activities at LC Packaging in Europe, Africa and beyond.
SA 8000 standards
Corporate Social Responsibility (CSR) has been built into DB's operations from day one. "When we started our own FIBC production in Bangladesh in 2008, our aim was always to operate according to the SA 8000 standards. Now, 11 years later, we are still SA 8000 certified," Mumit says. "Not only has this journey been fruitful for our employees, but it has also received active engagement and collaboration from our external stakeholders like FMO (Dutch Development Bank) and the Dutch Government."
As we always aim for a long-term partnership, our goal is not to eliminate suppliers that do not fully comply, but to work together towards a situation of compliance. Our suppliers are our partners and we are open to discuss improvements."
Supply chain effort

There are, of course, non-negotiable topics, such as child labour. But for the company full compliance is a supply chain effort.
"Our 2022 vision is based on our customers' targets among others," adds Mastwijk. "As sustainability is a chain responsibility, our actions have to contribute to our customers' goals and the whole value chain. As a proud member of the UN Global Compact, SEDEX, and Ecovadis Silver Medal owner we cheer customers who emphasise the importance of being a responsible partner. We wouldn't expect anything less."
You can read the full story in the March/April edition of Bulk Distributor magazine