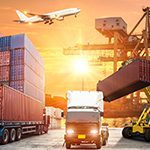 SCALA surveyed a selection of the UK's best-known businesses and 3PLs with regards to customer satisfaction rates. The aim of the research was to identify how satisfied companies are with the performance of their 3PLs, and how satisfied 3PLs think their clients are with their performance.
The topline results highlighted significant discrepancies between the satisfaction levels 3PL customers have with their Third-Party Logistics suppliers, and the perceived satisfaction rates of the 3PLs themselves.
On the whole, 3PLs could be doing better, with just 18% of companies surveyed claiming to be "very satisfied" with the performance of their 3PL. Common satisfaction pain points for businesses included a lack of proactivity from 3PLs, a lack of continuous improvement and a constant focus on cost instead of quality.
3PLs seem to have an exaggerated sense of satisfaction and optimism when it comes to their own perceived customer satisfaction rates. 38% of 3PLs surveyed believe their customers are "very satisfied" with their performance, which is more than twice their customers' actual levels. However, 15% of 3PLs also conceded that their clients were very dissatisfied.
John Perry, managing director at SCALA, commented: "Two things are clear from this research. Firstly, customers of 3PLs need to be more vigilant in their approach to tendering, awarding and managing their 3PL contracts. Secondly, 3PLs should be doing more to increase satisfaction levels amongst their customers and identifying better ways to accurately gauge the state of their customer relationships.
"The key to achieving better synchronisation between 3PLs and their customers lies first and foremost in ensuring customers and 3PLs are aligned to successfully achieving the customer's key business objectives. Once a contract is awarded, this then needs to be implemented through regular, formal review meetings, that look at objective measures of performance both of those business objectives and the detailed SLA logistics performance measures that are effectively communicated between both parties.
"Without reference to these measures of success, perspectives become based on informal discussions, hearsay and personal bias. KPIs provide both sides with the rare opportunity to step back and review the situation calmly and clearly. These also provide early indicators of when slight changes are needed to keep the relationship on track".
Participating companies that offered up their views cover a wide-range of sectors but predominantly operate in the grocery, FMCG, electrical appliance and homewares sectors.
The 3PLs range from regional providers to the very largest in the UK, with the majority having in excess of 100 clients.
To download the report please visit: https://www.scalagroup.co.uk/wp-content/uploads/2019/03/3rdpartyreport.pdf