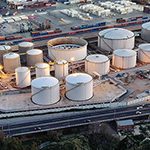 CLH has invested more than 10 million euros in expanding the storage capacity of its Barcelona facility and on other operational improvements to increase oil product storage and transport capacity in the Mediterranean region.
The logistics company has built two new storage tanks of 11,000 cubic metres each, representing a total investment of over 3 million euros. Thanks to the new tanks, the capacity of this facility has been increased by an additional 22,000 cubic metres.
Furthermore, the company has allocated 7 million euros to operational improvements in the tanks, increasing pump flows and improving the safety and environmental protection measures of the facility. These investments will lead to an increase in the productivity of the plant, as well as providing flexibility to attend more effectively to the new demands of customers.
New pumps have been installed with a higher flow rate and some sections of the pipeline that share entry flows from the moorings with other movements have been split, making it possible to carry out delivery and despatch operations simultaneously and to handle different products. The investment allocated to this item amounted to 1.2 million euros.
Lastly, various improvements have also been introduced in the safety and environmental protection systems of the facility. Specifically, 1.7 million euros has been invested in improvements to the fire protection system; buried pipelines have been replaced by above-ground pipelines to prevent possible environmental impacts, and a system has been installed for the identification of compartments in tankers to increase safety in road tanker loading operations that take place in the loading areas and prevent the risk of overfilling.
After this expansion, the Barcelona plant has 44 tanks with a total storage capacity of almost 500,000 cubic metres, two berths with a draught of 13.5 m and 11.56 m for the loading and discharging of vessels, each one with six automated discharging arms, and another berth with two arms for barges, as well as the road tanker loading area.