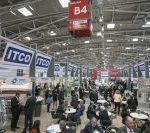 This year's ITCO Tank Container Village – organised as part of the transport logistic 2019 exhibition taking place in Munich, Germany, in June – will be the biggest one so far arranged by the Association.
Comprising 68 exhibition stands and 73 ITCO members in total, the 2019 Village represents a 11 percent increase in size over 2017 – which in turn was 10 percent larger than in 2015. Located in Hall B4 of the New Munich Trade Show Centre, the 2019 Tank Container Village will again offer ITCO members, exhibitors and visitors an important opportunity to meet their customers and partners in a dedicated and professional environment.
ITCO Members exhibiting in the Village will be displaying a wide range of equipment and services, with the majority of the world's leading tank container operators, leasing companies, manufacturers and component suppliers taking part.
In addition, there will be tank container surveyors and inspection companies, together with a number of leading tank cleaning and repair facilities. Health, safety, quality and environmental concerns are top priorities for ITCO members. Technical innovations and improved operational efficiency support those priorities.
The growth in the size of the Exhibition reflects the growing range of products and services that ITCO is offering to its members – and also the increasing membership of the organisation. ITCO will be show-casing a number of initiatives that it has been developing over the past year.
This year, ITCO has published three new Reports:
– Guidelines for taking samples from tank containers
– The 2019 Tank Container Fleet Report
– Guidance for tank operators transporting polymerizing substances subject to SP386
ITCO is continuing to manage the @TCO Depot Audit Scheme for depots in Asia, enabling tank container owners and users to verify that Depots are meeting their required criteria.
Commenting on the ITCO Tank Container Village, Reg Lee, President of the International Tank Container Organisation notes: "This year's ITCO Tank Container Village at transport logistic will be the biggest so far. The Tank Container Village has established itself as the most important global meeting place for the tank container industry worldwide."
Two evening receptions are being organised: the traditional ITCO Welcome Reception on Tuesday 4 June at 18:00 – which is being sponsored this year by tank container manufacturer CIMC; and the Wine-Tasting Evening, sponsored by Perolo, which takes place on Wednesday 5 June. Visitors are warmly invited to both events.
Visitors to transport logistic 2019 will find the Tank Container Village in Hall B4 (Stand221/322 and 217/318).
Further information on www.itco.org.