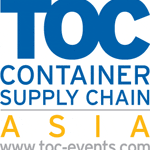 Ground breaking developments in container terminal and port design, infrastructure, operations and technology will be explored at TOC Asia 2019, returning to Singapore for the sixth time this 9-10 April as part of Singapore Maritime Week.
Visitors to the TOC Asia exhibition and conference, now in its 19th year as part of the global TOC portfolio of port-centred supply chain operations events, will have access to multiple free seminars and presentations exploring the state-of-the-art in container terminal operations. Key sessions at this year's free TECH TOC seminars at TOC Asia include a deep dive into the expansion programme to build over 5 million TEU of new capacity at the semi-automated Khalifa Port in Abu Dhabi.
Angelo de Jong, Chief Projects Officer at Abu Dhabi Terminals (ADT) will discuss the operational, engineering and organisational challenges of such a large-scale semi-automated terminal expansion and share ADT's views on critical success factors to deliver a major project on time without impacting customer service levels. The ADT presentation will include a specific focus on the role of suppliers in ensuring success and how the many engineering and technology interfaces should be managed.
How to effectively incorporate automation, digitalisation, clean tech and other advanced technologies remains a critical challenge for the container terminal industry and supply chain at large and a key focus of debate at TOC technical seminars and conferences around the world. To help container terminal operators large and small assess the impact and potential of technology development, TECH TOC seminars during TOC Asia will connect port technology suppliers and buyers to address key topics including:
• Successfully managing next generation ports and terminals

• Artificial intelligence, automation and digitalisation

• Smart servicing, maintenance and diagnostics

• Powering the port of the future

International suppliers will share views on R&D and implementation of the latest hardware and software both to improve the internal operating and cost efficiency of ports and terminals and to connect port operations with ocean carriers, shippers and other members of the container supply chain. That includes the use of digital platforms and IoT technology to provide more visibility into cargo and containers as they move along the chain, streamline hand-offs between ship, port and inland operations, and improve the velocity of cargo flow.
Running in parallel, the Container Supply Chain conference will provide high-level business insights for the C-suite, looking at key challenges and opportunities in regional and global container trade, shipping and port operations including the impact of the Fourth Industrial Revolution, trade wars, economic projections, and other macro factors. The conference will also include a special session on start-ups and disruptors hosted by Rotterdam-based incubator PortXL.
Visitors to TOC Asia can also attend the Sea Asia exhibition without the need to re-register. Sea Asia has more than 400 exhibitors and is widely recognised as Asia's anchor maritime and offshore event. All TOC Asia badges are valid for the Sea Asia exhibition and vice versa.
Visit TOC ASIA 2019 for more information or follow on Twitter or LinkedIn