New service RIO 4Rental offers fleet analysis to EURO-Leasing customers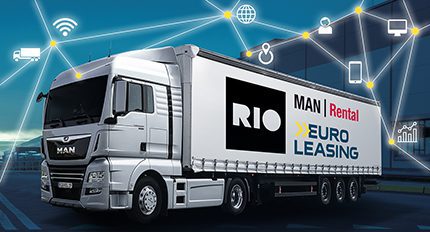 RIO and EURO-Leasing have teamed up to give rental vehicle customers the benefits of digitalisation. Customers who rent vehicles from EURO-Leasing now have access to the digital services of these vehicles. The RIO platform provides the renter with comprehensive telematics information that can be used as required. The basic service, RIO Essentials, is free of charge. It provides the renter with a flexible tool for fleet analysis that can be used for both short- and long-term rental periods.
The purpose of this collaboration is to accompany customers through the process of digital transformation. The idea is that the best possible telematics truck and trailer solution can be found on the basis of the advice provided about vehicles and services. "It is no longer possible to imagine everyday life without digitalisation. The transportation and logistics industry is no exception to this. That is why we have been equipping our fleet of rental vehicles with telematics boxes as standard for a good 12 years now," says Armin Hofer, CEO of EURO-Leasing, explaining why EURO-Leasing and RIO are working together.
Digital services without contract periods
Renters of a EURO-Leasing vehicle can register with RIO in just a few short steps, activate the rental vehicle in their own system free of charge and gain access to all the services in the RIO Marketplace. There is no need to sign a contract with EURO-Leasing to access these digital services; renters get the digital package automatically. The services includes information on the vehicle's position, trip history and upcoming maintenance. RIO Essentials also allows the fuel consumption, kilometres driven and average speed of an entire fleet to be analysed over the previous 10 days.
Data for renters and the rental company
The collaboration between EURO-Leasing and RIO gives renters access to vehicle-related and logistics services without a contract and without defined contract periods. At the same time, EURO-Leasing, the rental company, maintains an overview of appointments for maintenance and repairs. "The advantage of RIO 4Rental is that both renters and the rental company have access to selected data. It was particularly important to us that customers should own their own data during the rental period and that only information relevant to the upkeep of the vehicle should go to the rental company," explains Martin Holzapfel, Product Owner of RIO 4Rental.
Everything at a glance
"When new RIO services are developed, the primary focus is always on the benefit to the customer and user friendliness. This new service for rental vehicles gives renters exactly the same benefits from digitalisation as vehicle owners," says RIO CEO Jan Kaumanns. Proactive maintenance and repair management, which reduces breakdowns and downtimes for the customer, played a pivotal role in EURO-Leasing's decision to enter into this collaboration. "Vehicle rental is a fast-moving business, and together with RIO we are able to offer a flexible digital solution and provide services irrespective of the vehicle manufacturer," adds EURO-Leasing CEO Armin Hofer.