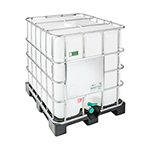 Also located in a cleanroom environment, the new blow moulder machine operates with food safe hydraulic oil, active carbon filtered air and bacteria free cooling water, and will allow Greif to meet its growing demand for food grade IBCs.
The investment adds to the existing machine installed last year, boosting the output capacity of Greif's Ede facility to over 1,500 per day.
"Demand for IBCs continues to grow in the food sector where product integrity and shelf life storage are becoming increasingly important" said Luca Bettoni, Greif EMEA IBC and plastic product manager. "This additional investment boosts our in-house capacity and offers customers the reassurance of product protection against contamination."
"Furthermore, the Ede facility recently achieved the FSSC 22000 certification for food safety, clearly demonstrating our commitment to providing the best level of service and quality of product to our customers."
Greif's multi-million euro facility in Ede has been designed to offer customers the very latest IBC technologies available to the market, with a specific focus on the food industry offering the highest standards in the IBC market.