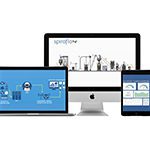 The aim of the initiative is to automatically monitor customers' equipment through sensor-based technology, thereby providing key performance related, safety and operational benefits.
With IIoT (Industrial Internet of Things) becoming increasingly established, the use of sensors, data processing and wireless networks to collect and securely analyse digital inputs/data across entire facilities, is enabling connected businesses to improve their overall effectiveness, safety performance and reduce downtime. Relevant data could include the machine runtime hours, safety infractions, pinpointing production bottlenecks, motors operating at higher amps, vibration, temperature, unusual spikes or issues on site that may cause failure.
As an 'upgrade', SAM is built into the standard electrical panel on Spiroflow's machinery by an in-house team of skilled electrical engineers and connected remotely via 4G/5G or Wi-fi. By monitoring equipment performance, SAM can provide the customer with a custom dashboard of graphs showing amalgamated data from all available sensors. And depending on a customer's specifications, the data will show live trends based on pre-set variables. All data collected will be stored online and will be subject to high levels of security.
Commenting on the new system, Spiroflow's James Podevyn, said: "As an industry leader, it is important for us to embrace not only IIoT in all that we do, but also to support the private sector's move towards industry 4.0. As an industry first, SAM will allow our customers to have unbiased facts at their fingertips allowing for an enhanced overview of equipment performance, together with the ability to quickly identify issues and rectify them. Clearly by having the means to implement precise measures, a catastrophic equipment failure and resulting downtime can be avoided."