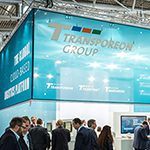 Data-based decisions replace gut instinct
Dispatchers at shipping companies decide daily whether to place transport orders at fixed rates or conduct bids at short notice on the so-called spot market. Until recently, this decision was based on their prior experience and gut feeling. But now Transporeon is enabling data-based decision making with a range of new solutions. Its innovative Offer Retrospect and Offer Prediction products use artificial intelligence to provide valuable information on whether rate-based or spot-market allocation is likely to be more successful and more economical. These tools can also be used to forecast capacity availability for planned transports.
Additionally, shippers can use another of Transporeon's new data-driven products, the Connecting Load Agent, to instantly compare loading dates with any unloading times and locations already agreed with carriers. This makes it easy for shippers to find out how many carriers are unloading in the vicinity of an upcoming load and therefore are likely to be 2 searching for a connecting load. If the number is large, the shipper may decide to offer the upcoming load on the spot market, as co-located carriers offer lower rates in order to avoid an empty run. This also benefits the environment as fewer empty journeys means lower carbon dioxide emissions.
Integrated real-time tracking
Another key Transporeon topic at transport logistic 2019 will be the tracking of full truck loads (FTL) and partial truck loads (LTL). Together with real-time visibility provider Sixfold, Transporeon has recently launched a new, integrated, and easily implemented solution. Sixfold connects carriers' truck fleets primarily via the telematics systems they use. As these systems are now seamlessly integrated in the Transporeon platform, shippers can track deliveries in real time based on the estimated time of arrival (ETA). This means that shippers need only log into one platform – Transporeon – to manage transport bids, transport assignment, time slot management, and now also delivery tracking. This solution is unique in the European market.
Intelligent transport market analyses for transparency
Another first-time highlight at transport logistic 2019 will be presentation by the Transporeon Group's market intelligence organisation, TIM CONSULT, of its completely revised Transport Market Monitor. Available from June, this analysis tool offers information on price and capacity developments in European road transportation, using data from the vast Transporeon database.