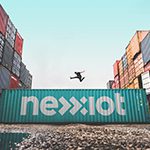 The new brand reinforces the strategic focus of Nexxiot, provides clarity for communications and supports the process of internationalization. "It's our goal to establish an unmistakeable brand for our customers and potential clients by associating it with unique attributes and benefits that are relevant to our target groups," says Uwe Bormann, responsible for the brand relaunch at Nexxiot in his position as Vice President Marketing.
Nexxiot bases its new brand on three core elements in order to position itself as the market leader for optimizing supply chains with IoT support. These elements have emerged from the newly developed positioning which was the prerequisite for the brand concept and design. "Positioning is the basis of any marketing strategy. It forms the foundation for branding and for the complete marketing and PR communications in future. Above all, it ensures that we can clearly and explicitly formulate our messages so that everybody knows what Nexxiot stands for," says Bormann, with conviction.
The company is creating transparency through its business model (Leadership through Transparency). Algorithms analyse huge amounts of data, develop findings from the data and they are converted into sensible recommendations for action. Nexxiot also focuses on cooperation with its platform, which is designed as an open eco-system (Leadership through Collaboration), and it integrates all kinds of players. The Swiss start-up is also a long-term, strategically independent partner (Leadership through Partnership).
New brand presence
"The logo and corporate design now have a much more dynamic and distinctive pattern and symbolize the constant flow of goods, which Nexxiot makes transparent and optimizes through its digital solutions. The claim ('The source of flow') is a confident statement and refers to the essence of its business model," Bormann continues. The company's Swiss origin is reflected in the new design too, even if in a slightly cryptic form. The letter x in the company's logo is a reference to the cross in the Swiss national flag. The brand agency, BSUR, which is based in Amsterdam, provided support for designing the brand identity. It has already developed brand campaigns for MINI and the audio pioneer Plantronics in the past.
The new name and the brand image will be presented to customers, partners and journalists for the first time at the world's leading trade fair for transport and logistics, 'transport logistic' in Munich on 4 – 7 June.