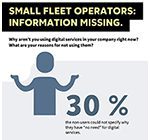 The findings of the study were presented on 4 June at a press conference during the transport logistic trade fair.
The aim of the study was to find out how digitally equipped small fleets already are and where there is still a need for digital support. The lion's share of forwarders and haulage companies in Germany today are still to be found in the small to medium-sized segment. There are over 45,000 transport service providers in Germany. Around 36,000 of them have a fleet with less than ten vehicles (Source: German Federal Office for Goods Transport).
Telephone interviews were conducted with 300 decision-makers at companies with fleets of up to 20 trucks between February and March 2019. The sectors selected included the manufacturing industry, commerce, forwarding and logistics, as well as skilled trades and services.
Farewell to the fax machine: Small companies need digital support
Currently, just slightly more than half the fleet operators surveyed are using digital services for their vehicle fleets or transportation tasks. In many cases, phone, fax and paper documents are still being used.
Even the smallest forwarders, which don't have their own IT department or large scheduling office, have to meet the same legal requirements as large companies and are just as liable for any breaches of them.
What the study also identified: Many fleet operators don't know that digital offers also exist for small fleets. Almost 20 per cent of non-users stated that they didn't need digital services because their fleets were too small.
Digital even without your own transport management system: RIO Dispatch
With the new RIO Dispatch service, RIO also offers small companies, which do not yet have their own software solution, a telematics and logistics service with a transparent cost model from a single source. Users can book or cancel the service at any time and only pay for its actual use per vehicle and day.