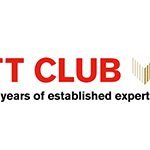 This prestigious Award will be presented by Heike Deggim, Director of the Maritime Safety Division at the International Maritime Organization, during ICHCA International Official Reception & Awards Ceremony, hosted by Malta Freeport Terminals on Tuesday 12 November at the Hilton Hotel, Malta.
Alongside the 3rd TT Club Innovation in Safety Award, the John Strang A.O. Memorial Award will be presented during the Awards Ceremony.
Deadline for entries is 31 August 2019. Details of the entry process for the Safety Awards and judging criteria can be found here
Enter now and be in with a chance to become the winner of the 3rd TT Club Innovation in Safety Award and join APM Terminals and Hapag-Lloyd (2015/2017 winners respectively) and add your name to the Cargo Safety Hall of Fame
In announcing the opening of the Award entry process for 2019, TT Club Risk Management Director Peregrine Storrs-Fox said…
"TT Club has always emphasised the critical nature of loss prevention in its role as a primary supplier of liability and property insurance to those operating in the freight supply chain industry. As such, we remain dedicated to encouraging safety awareness and are delighted to maintain our support of this joint initiative with ICHCA. This award aims to tease out and profile equipment, systems or processes that result in improvements in safety – effectively helping to ensure that workers can return home night by night. We look forward to examining the wealth of safety innovation that will once more be encouraged by this Award."
The 2019 ICHCA International 20/20 Cargo Vision Conference & Exhibition will bring all the stakeholders together to explore how to create safer, more sustainable and secure maritime cargo operations across land and sea.