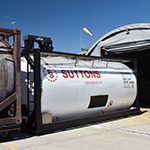 Suttons International made the move in response to demand for its services around the world and to revamp its existing international tank container fleet.
The service, which sees anything from minor repairs to full tank refurbishments has been such a success that the company is now offering the facility to its customers.
John Sutton, CEO, Suttons Group, said:
"The new custom-built workshop helps us to keep the fleet up to the high standards our customers expect and is a continuation of our long-term investment plan.
"Before any refurbishments take place a thorough inspection of the tank is carried out to establish current condition. If a repair is needed an estimate is raised of the likely time and cost to bring it up to standard.
"The specialist team is able to complete around 12 tanks a month and it's paying dividends in terms of smartening up the fleet at a competitive price.
"We have always offered a cleaning service to customers but offering full tank refurbishment further increases the condition of the fleet and shows our commitment to the global market."
Suttons International operates a growing fleet, transporting more than 9,000 tank containers around the globe, focused on the bulk chemical and gas sectors with key business centres in New Jersey, Houston, Widnes, Antwerp, Ludwigshafen, Kuantan, Singapore, Shanghai, Tokyo and Khobar.