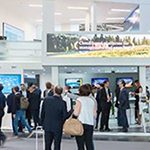 Analysis and reporting of offers on the European spot market for road transports
Offer Retrospect accesses anonymized stored data about the spot-market orders that are processed every month worldwide on the Transporeon platform. Every time a dispatcher plans to place a transport order via the system, a dialogue window immediately shows the average number of offers that shippers have received from carriers on the Transporeon platform in the past 14 days for corresponding transports on the spot market. The information is generated from anonymized data about platform-wide offers. It is then filtered and displayed based on the loading and unloading point, and the shipper's industry.
Artificial intelligence and smart data processing for predicting offers
Offer Prediction uses artificial intelligence and forecasts the probable number of offers for each transport assignment on the spot market. The solution works with algorithms and 'learns' from the comprehensive anonymized information about completed transports stored on the Transporeon platform. In addition to the loading and unloading points and the industry, the model also evaluates information on the loading and unloading date and time, the transport route, and the number of customs clearances. The vehicle type and specific load features (e.g. dangerous goods transports) are also included. "The time at which a transport is placed on the spot market also influences how many carriers submit an offer. This information is therefore also included in the forecast", adds Einsiedler.
Finding suitable carriers and reducing empty runs in real time based on data
The third product innovation presented by Transporeon at transport logistic 2019 also gives shippers a better overview of the market and increases their chance of getting more offers for transports offered on the spot market.
"The new function is a win-win situation for everyone involved: shippers can find suitable transport service providers more easily and, ideally, reduce their transport costs. Carriers avoid empty runs and optimize the route planning of their trucks", says Einsiedler.