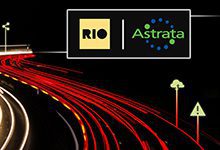 In a further expansion of the partnership the two companies are also launching Astrata's Mission Planner connection in RIO's Marketplace. In this appstore-like shop every service that the digital brand has launched is available – be it RIO Timed, RIO 4TMS, RIO Compliant or other helpful products for fleet management.
RIO and Astrata customers will benefit from this new partnership. They will get access through Mission Planner to mobility related data such as vehicle location, mileage and fuel-level, and increased transparency of data from their mixed fleet through enhanced connectivity.
Mission Planner from Astrata is a stand-alone, customisable, logistics process and workflow management application. It improves workflow management and streamlines processes, thereby simplifying your operations – saving you time and saving you money. "The collaboration between RIO and Astrata will benefit fleet owners through a customisable workflow and process solution without the need of any additional hardware," says Abdallah Harati – Sr VP of Sales & Marketing – Astrata.
Jan Kaumanns – CEO of RIO – adds: "The partnership with Astrata creates another layer of transparency for our customers. Our Marketplace is growing steadily and as an open platform we need experts like Astrata to connect all players in the supply chain. For every aspect of this complex process we are looking for the best partner."