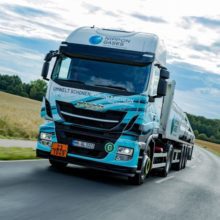 HOYER uses these two liquefied natural gas fuelled IVECO trucks of the Stralis 440S40 NP type to carry industrial gases such as hydrogen and nitrogen every day from the Hürth site throughout the entire federal state of North Rhine-Westphalia on behalf of its partner Nippon Gases Deutschland. HOYER brought the same truck model into operation last year to transport mineral oil and with 15 per cent less CO2 and fuel consumption and 60 per cent less nitrogen oxides emissions than traditional fuelled engines, it prompted the logistics specialist to make additional investments despite significantly higher procurement costs.
Thomas Hüttemann, Managing Director of the Gaslog business unit of the HOYER Group, says "As experts in transporting gases liquefied under pressure and cryogenically, we ensure gases of all kinds are transported safely and smoothly on a daily basis. The growing LNG market has an especially positive effect on the balance sheet of our business." According to Hüttemann: "Not only transporting these alternative energy sources, but also driving with them ourselves."
The logistics specialist has seven CNG-fuelled vehicles operating nationwide. 96 per cent of the trucks used by HOYER in Germany already have Euro 6 Class low-emission engines. The subject of alternative drive systems will be followed up intensively in the future to achieve the company's target of reducing CO2 emissions by 25 per cent per ton/km by 2020. The purchase of electrically-powered cars is also being considered. Currently, however, the market does not yet offer any adequate solutions for heavy commercial trucks of the kind used by HOYER. The fact that a service station network for alternative energies is not yet available in many countries represents an additional obstacle.