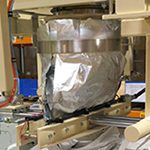 Working closely with leading bag liner suppliers, Spiroflow's bulk bag filling equipment can now integrate these liners, which, following a nitrogen purge and heat sealing process, can significantly extend product shelf life. The solution will be of particular interest to producers of nuts, seeds, coffee beans, dried fruits or any manufacturers in the pharmaceutical or chemical sectors who could benefit from extended product storage.
Commenting on the initiative, Spiroflow's James Podevyn, said: "Traditionally when bag filling, the bag would be inflated with air before filling commences. Filling it with nitrogen instead eliminates any oxygen within the bag and after fill the bag can be left inflated or vacuumed, then heat sealed, thereby no air can get in or out. Bacteria feeds on oxygen so by removing it, products can last longer and shelf life will be increased.
"The foil or plastic bag liner could be used with any bulk bag filling construction we make and the customer may choose the perfect, bespoke bag for their product, enabling us to build the equipment to meet their exact requirement. This enhanced bag process could benefit any product that has a shelf life, is affected by contact to air, or is hygroscopic in nature. The scope of uptake may well go beyond the food and pharmaceutical industries and we are excited to see how this process solution can innovate a breadth of businesses."
Spiroflow offer two types of bulk bag fillers. The C Series, for low to medium volume applications, has a modular construction which has the capability to be scaled up from a basic set-up, to be modified when a change in production requirements demands it.
The Cone Table Elite (CTE) Bulk Bag Filler has a densification system that can increase bag stability and filling quantity suited to high volume filing or where considerable densifying is needed. By increasing the densification, the cost of shipping is reduced as the bags can be filled with more product. By increasing the stability of the bags they become safer to handle and to ship which could reduce costs.