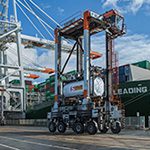 FourKites provides information for all of the key stages during the transport of a tank container: depot departure; loading; gate in; loaded on board; vessel departure, etc., as well as providing information about any planned changes to the schedule.
"Implementation of the platform is part of STC's ongoing digital transformation programme, which is focused on using the power of technology to deliver a seamless, tailor-made experience for our customers", explains Shane Robertson, Principal Business Analyst at STC Business Applications. "By harnessing our own extensive digital supplier network, updates are made automatically, in real time, to customers via FourKites whenever our logistics partners notify us of key status update."
By connecting with FourKites STC customers can simplify their own processes by negating the need to check multiple separate platforms. It's a great way for customers to streamline and automate their interactions with STC.
STC is leading the industry in its use of technology – it was the first tank container operator to join the INTTRA and Infor Nexus platforms and recently launched its Track and Trace online shipment tracking platform. This latest development further enhances STC's logistics technology portfolio, and has the potential to deliver significant benefits to STC's customers.