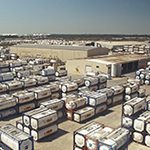 The Houston metropolitan area comprises the largest concentration of petrochemical manufacturing in the world as well as the busiest US port for foreign tonnage. STC's strategic advantage of an inhouse depot in Houston provides a level of response and support for customers that is unparalleled in the industry.
Dan Shelton, Depot Manager, Houston, said: "We have increased our storage capacity by 40% – laying 12 acres of concrete in order to maximise the use of our property. Unlike other depots with more basic conditions, concrete offers a smoother surface for the movement and storage of tank containers. A new workshop has also been added which is dedicated to the repair and servicing of high-pressure gas tank containers.
"We understand that safety is the number-one priority for our customers, and we make it ours too. We've installed new fall protection and a facility-wide emergency siren. Our new automated heating system has raised safety levels at the depot even further, as our technicians can focus on the safe management of the overall heating process. The system has also improved turnaround times for heating services. STC Houston offers customers the convenience of one location where our team of dedicated, highly trained staff can heat products, clean and repair tanks. Having these services available in one, accessible central point can help customers reduce costs related to additional movement by road and chassis rental." added Dan.
"All our recent investments are focused on putting customers' needs first," said Mike Kramer, President Stolt Tank Containers. "2019 will be an exciting year for STC as we continue to expand our depot network. We recently opened two new depots in Saudi Arabia and our modernised depot at Houston is setting the standard for depots around the world. This month we also launched our new online service: Track and Trace which enables customers to check and follow the status of their cargo in real time. We're proud of our ability to offer our customers a wide range of reliable services, using some of the most modern equipment and technology in the industry."