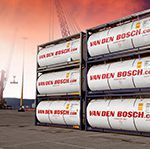 "With this partnership we aim to further develop our liquid bulk transport activities from and to South Africa", General Manager Bart van de Vorst of Van den Bosch DMCC explains "The focus is specifically on the transport of liquid food products in ISO tank containers. The South African market offers huge opportunities in regards to the transport of liquids in bulk as an alternative to the traditional drums and IBC's. With the start of this promising partnership, we want to further strengthen our position as a tank operator on the South African market."
Developing liquid bulk activities
As of 1 September 2019, STACKS Logistics will become the exclusive agent for Van den Bosch DMCC in South Africa. STACKS will be the first point of contact for the South African business relations of Van den Bosch and will also be responsible for the further development of the liquid bulk activities from and to the South African market.
Managing Director Olivier Vanreusel is delighted with the partnership: "We are excited to develop the liquid bulk activities together with Van den Bosch and aim to become a key player within the food & beverage logistics industry in South Africa." An additional advantage is that STACKS offers in-house customs. "We operate as a freight forwarder with our own customs department. This will enable Van den Bosch to offer their South African customers a full in-house door to door solution."
Connecting Africa
Over the past years, Van den Bosch has developed a strong position as tank operator on the African market. Branches were established in Dubai, Ghana, Ivory Coast and South Africa and this year investments were made again in 400 new ISO tank containers.
"The start of this partnership marks a next step on the African market", Van de Vorst continuous. "Just like Van den Bosch, STACKS has a strong focus on Africa. The slogan 'connecting Africa' ​​fits in seamlessly with our vision and ambitions." Vanreusel agrees: "We share similar values, vision and focus. We aim to keep developing partnerships with Van den Bosch in other African countries as well and conquer these markets together."
Joining forces in South Africa
Van den Bosch DMCC has been represented in South Africa by Aspen International since 2016, with whom a joint venture has been concluded. This collaboration will become part of the new STACKS-Van den Bosch partnership. Owner Gary van Niekerk continuous to be a strategic advisor for both Van den Bosch and STACKS.