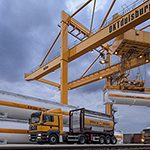 In September 2018, the state-owned Swiss rail company SBB communicated its intention to identify partners for a minority investment in its rail freight business. SBB strives to shift the market positioning of SBB Cargo towards more entrepreneurship. Accordingly, SBB Cargo was positioned as an independent group company within SBB Group on January 1, 2019.
The Swiss logistics firms Planzer, Camion Transport, Galliker, and Bertschi move significant volumes in the Swiss and international road and rail freight transportation markets. They have a mutual interest in a sustainable modal split between rail and road as well as in a competitive Swiss rail freight market offering. Therefore, the four companies decided to pursue an equity participation in SBB Cargo through the joint entity Swiss Combi.
The four family businesses plan to further improve competitiveness and profitability of SBB Cargo and, thereby, to positively contribute to a sustainable and environmentally friendly modal split in the freight traffic market.
SBB and Swiss Combi are convinced to be the right partners for the successful advancement of SBB Cargo. The 35 percent equity participation of Swiss Combi and the corresponding minority shareholder rights shall ensure a partnership-driven market development of the rail freight business. SBB will remain majority shareholder of SBB Cargo with a 65 percent stake. The Board of Directors of SBB Cargo will be constituted by three representatives of SBB, two representatives of Swiss Combi, and one independent Board Member.
Bertschi group, a pioneer in sustainable transport solutions, moves 80 percent of its European freight volumes via intermodal transport by rail. Bertschi plans to utilize its decade-long experience in intermodal transport to achieve positive development impacts for SBB Cargo as well as a sustainable modal split in Switzerland, in Europe, and worldwide. These plans shall further contribute to the achievement of challenging climate targets in freight transportation.
Closing of the transaction is subject to approval of the relevant antitrust authorities, foreseen to be granted in spring 2020. The parties agreed not to disclose the value of the transaction.