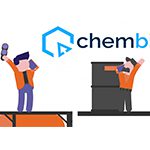 Both platforms hope to create cross-sectoral synergies through long-term cooperation, which will be expressed primarily in the form of a broader range of services and greater transparency for their users.
After entering into platform cooperation with well-known marketplace operators for chemicals and plastics in the past months, chembid announced cooperation with TankContainerFinder.com in September. In addition to the range of chemicals worldwide, supplementary logistics services will also be available for the platform users.
Users benefit from a wide range of transport containers, high comparability of these offers and cost transparency. At the same time, commercial suppliers can offer their tank containers and present them efficiently and cost-effectively to a large number of potential customers. TankContainerFinder.com currently has over 1,100 active users from 114 countries and over 900 brokerage enquiries.
The cooperation between chembid and TankContainerFinder.com gives chembid users access to a reliable logistics service. With this cooperation, chembid is broadening its position in the chemical industry. "Our users demand innovative solutions for everyday challenges in the chemical industry. In addition to purchasing and selling chemicals and plastics, supplementary services in areas such as logistics or financing are also highly relevant. In TankContainerFinder.com we have found a reliable partner from the logistics sector with whom we can offer complementary logistics services on our platform," comments Christian Bürger, Managing Director of chembid.
Léon de Bruin, CEO of TankContainerFinder.com, is also looking forward to the cooperation: "The partnership between chembid and TankContainerFinder.com enables us to broaden our horizons and network within the chemical and plastics industry. We are looking forward to connecting the largest search engine for chemicals and plastics worldwide, with a great presence in the Far East, to the leading platform for tank containers worldwide, and building a more transparent and efficient chemical supply chain together."
The cooperation between chembid and TankContainerFinder.com should also be a signal for open and interdisciplinary cooperation between digital platforms. Further partnerships are planned by TankContainerFinder.com and chembid with companies from other industry sectors in order to offer users a growing and broader range of services.