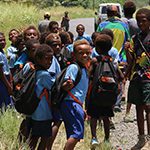 The International Association of Business Communicators – Philippines, the national professional association of top business, industrial and organizational communicators — has bestowed ICTSI with an Award of Excellence for its 2017 Sustainability Report (SR) and an Award of Merit for its Public Relations Program for Papua New Guinea Communities.
 ICTSI's maiden Sustainability Report for 2017 captured sustainability initiatives at the Manila International Container Terminal (MICT) and highlighted ongoing efforts across the ICTSI Group. As a facilitator in the global supply chain, ICTSI places importance on sustainability reporting, which serves as both the Company's compass and ballast, and enables an accurate evaluation of its performance targets for social, environmental and economic impacts.
 The Company's landmark stakeholder engagement program in Papua New Guinea, meanwhile, jumpstarted public-private-people partnerships with ICTSI's host communities in its Lae and Motukea terminals. Under a pioneering arrangement, ICTSI's host community partners became part-owners of the two PNG terminals; while at the same time placing emphasis on the development of the country's youth in terms of law and order, sports, health and education through relevant programs.
 This is the second commendation received for the program, after it won a Gold Anvil during the 54th Anvil Awards last January.
 ICTSI South Pacific Ltd. and the ICTSI Foundation continue to undertake projects benefitting immediate port stakeholders. In Lae, ICTSI recently donated a PGK505,000 (US$149,000) police facility in Omili to help improve the country's peace and order situation. The Company likewise entered into agreements with Noho-Mage Holdings Ltd. in Port Moresby last August for its acquisition of a minority stake in Motukea International Terminal. The organization represents landowner communities in Tatana and Baruni.
  As part of its commitment towards greater sustainability, ICTSI has widened the scope of its ESG reporting for its 2018 Sustainability Report – which will now cover eight key terminals in the Group's portfolio: Manila International Container Terminal (Philippines), Contecon Manzanillo (Mexico), Tecon Suape (Brazil), Contecon Guayaquil (Ecuador), Madagascar International Container Terminal (Madagascar), Pakistan International Container Terminal (Pakistan), Basra Gateway Terminal (Iraq), and Puerto Cortes (Honduras). Ongoing efforts are underway to eventually have all ICTSI ports on-board and establish goals and plans of action at a Group-wide level.