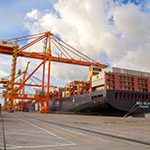 Fortino Landeros, CMSA chief executive officer, affirms that this milestone confirms CMSA's efforts to improve its processes for its customers and port stakeholders: "We are proud of reaching this latest milestone. More than hitting our targets, this new record demonstrates Contecon Manzanillo's capability to continuously outpace market growth, and readiness in building a strategic gateway for trans-Pacific trade—making our terminal one of the fastest growing gateways in the Americas."
He adds: "These achievements are possible thanks to our customers, the Manzanillo port authority, but more especially to our passionate, humble and committed workforce."
CMSA's recent milestone comes at a time of continued investments by ICTSI to expand Mexico's largest trading gateway in the Pacific and improve fluidity at the port. The Company recently embarked on a MXN2.5-million second phase expansion of the terminal's yards and entry and exit gates, and investments in cutting-edge technology and training of its personnel.
Mr. Landeros says: "We are very pleased to announce these additional investments aimed at securing Manzanillo's position as Mexico's leading maritime gateway. Along with further investments in port equipment and systems, we continue to work hand-in-hand with our customers to improve the efficiency of our operations and processes, and inevitably make their experience a more pleasant one."
Once completed, this increases Contecon's capacity by up to 50 percent, from 1.2-million twenty-foot equivalent units (TEU) at present to 1.6-million TEU by 2020 – giving substantial flexibility to absorb the projected increase in cargo volume at Manzanillo's largest port.
Complementing these landside improvements will be two more quay cranes and five yard cranes that are scheduled to arrive by the fourth quarter of 2019. This places Contecon as the only terminal in Manzanillo fully-equipped to service the largest vessels plying intra-Pacific routes.