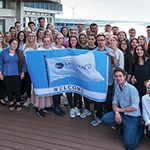 The Leschaco Group is a traditional, owner-managed logistics service provider and offers intercontinental logistics solutions for sea and air freight as well as contract logistics and tank container operations.
A total of 40 apprentices came to the Leschaco Group worldwide this year – 22 of them began their training in the German companies in August. This brings the total number of young people undergoing professional training at the international logistics service provider to 128 worldwide.
"Young people value our investment in training and the trust placed in them. Our experience is that training develops personnel that often remain loyal to our family business over long periods of time. We give our junior staff good reasons to hold on to Leschaco and show them attractive long-term career opportunities right from the start of our cooperation," says Jörg Conrad, owner of the Leschaco Group.
A good 95 percent of the junior employees continue their career at Leschaco after successfully completing their training.