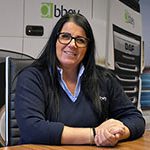 Sarah joins Abbey Logistics with more than 20 years' haulage experience. Initially starting as an HGV Driver, she has spent much of her subsequent career focused on driver training and skills development.
During her career, Sarah has provided driver training in all areas of HGV transport including tankers, general haulage and heavy haulage, across a wide variety industries.
Sarah is a Certified HGV Driver Assessor and a member of the RTITB Master Driver CPC Consortium and has a strong track record of delivering performance, compliance and safety improvements in HGV driver teams, delivering considerable service improvements for customers.
On her appointment, Sarah said: "This is such an exciting time to be joining Abbey. The company's focus on putting driver training at the forefront of its plans was crucial for me and I am delighted to be working for a company that is committed to supporting its workforce with effective training and development."
Steve Granite, Abbey Logistics CEO said: "Sarah is an excellent addition to our driver training team. We are looking forward to benefitting from her significant experience and strong track record regarding delivering the most relevant, effective and engaging driver training for our driver teams.
"Over the last year we have invested significantly in driver training which has helped us achieve JAUPT Approved status to deliver our own CPC courses. Sarah's experience and knowledge in this area will be vital for us to ensure our customers continue to receive the highest possible standards of service."