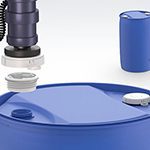 Consisting of a plug and sealing cap, the Automatic Lock's seal will break if drums are opened, thanks to the firmly incorporated inner seal ring. The filling product is also fully protected against unwanted discharge or contamination.
The seal cap can be fitted automatically or manually. First, the seal cap is placed on top of the plug; it centres itself automatically due to the position of the snap latches. Light pressure on the positioned seal cap makes the locking ring snap into place behind the snap latches in the plug. The rigid construction ensures the lock remains securely in place once fitted. The plastic tab connectors on the cap and the inner seal ring tear when the cap is opened. The ring is perforated, making it easy to lift off the seal cap. The cap is opened and lifted off in a single movement by pulling on the seal cap ring pull, allowing the plug to be unscrewed and the contents to be removed.
A sealing cap with many advantages
Automatic Lock is suitable for use with automatic drum filling systems and it offers numerous other advantages over conventional solutions. In contrast, standard plastic caps only close the bung opening without providing seal of originality, meaning that tampering can remain undetected. With Automatic Lock the seal cap is held by the plug and not by the bung. The broken seal cannot be repaired, and any tampering is instantly visible.
Compared with steel caps which are also fitted with a seal function to prevent tampering, key advantages of the new plastic system are the hygienic and non-corrosive material. Accordingly, Automatic Lock is certified for use on Schütz's Foodcert drums for food applications
The seal cap is available in red or white, and for a variety of different bung sizes. The seal cap is very user friendly with no extra tools needed to open it, thanks to the integrated ring pull.