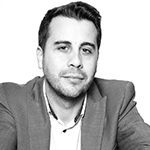 Stephane will oversee the performance of the sales team across France taking a strategic lead on new business development opportunities, as well as supporting the growth of existing customers with the range of Greif's product solutions.
With over 15 years' experience in sales and marketing in industrial business to business markets including food processing, animal feed, chemical and mining and minerals, Stephane brings with him a wealth of industry-specific knowledge.
Having been responsible for the development and implementation of sales and marketing strategies in previous roles, Stephane has a track record of driving growth without compromising quality. Stephane holds a master's degree in Sales and Marketing Management from HEC Paris.
Greif Regional Sales Director for Western Europe, Michael Vvedenskiy said: "With his enthusiasm, commercial awareness and previous experience, Stephane will be a huge asset to our operations in France. His appointment strengthens our commitment to delivering customer service excellence and progressive industry leadership."
Stephane Serrano added: "Greif is a forward-thinking company that puts its customers at the heart of what it does, consistently introducing new developments and innovations to meet the needs of its diverse customer base. I am looking forward to using my own experience and expertise to support Greif in its continued success."
Greif operates three production facilities across France in Rouen, Laudun and Lille. Its product portfolio includes steel drums, IBC's and plastic drums serving customers in the chemical, lubricants, food and beverage, pharmaceutical, nuclear and petrochemicals markets.
Greif is a global leader in industrial packaging products and services strategically positioned with almost 300 operating locations situated across over 40 countries.