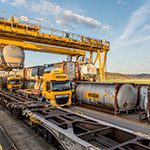 The workgroup, a shared initiative of HOYER, Bertschi and Den Hartogh, aims to develop an ECTA transport data and message definition framework to improve 'end to end' supply chain visibility and collaboration across the chemical logistics bulk liquid actors.
The initial focus of the ECTA workgroup is on providing reliable and continuously updated information on estimated time of arrival (ETA) and the communication of transport milestone messages, thereby avoiding the unnecessary exchange of huge amounts of raw data and differences in the interpretation of the ETA. To enhance this, common standards between different suppliers will be recognised and refined, in order to improve the transparency of the bulk liquids supply chain.
The overall scope of the initiative is not limited to standardisation in transport messages, as it also aims to look further in to other areas in the logistics process where standardisation would lead to higher efficiency.
HOYER, Bertschi and Den Hartogh started this initiative as they strongly believe in standardisation to further optimise the supply chain. The three parties believe that this is an important step towards further efficiency.
ECTA, HOYER, Bertschi, Den Hartogh, data, supply chain