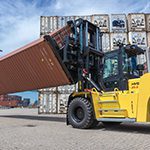 "To help them remain competitive, in container inspection, maintenance and repair operations, the visual inspection of empty containers needs to be as efficient as possible," says Chris van de Werdt, Product Strategy Manager EMEA Big Trucks for Hyster Europe.
Hyster Europe has developed a spreader support device for its Empty Container Handlers that helps eliminate a stage in the inspection process.
"With the spreader support device, containers no longer need to be set down for inspection, enabling checkers to quickly inspect the containers thoroughly," he says. "The inspection process involves examining the container for damage, including the underside, and the process has health and safety risks if the container is not suitably held in position."
By using the Hyster® spreader support device, the spreader holding the container is firmly locked in place at a height of about 1.80metres. At the touch of a button in the cab, the operator activates the support device which secures the spreader with mechanical locks from both sides of the mast.
The mechanical locks prevent the spreader and container from dropping. Furthermore, the moment the spreader support device is extended, the operator cannot drive or move the truck until it is de-activated following the inspection.
"A monitor indicates to the checker that the spreader is fixed and the container stabilised," Chris says. "Whether it is a dry container or the inspection of a reefer for food transportation or pharmaceuticals, this device helps to significantly reduce the inspection time."
The solution is available on models from the Hyster® H8XM-EC6 – H11XM-ECD9 series of Empty Container Handlers for the inspection of 20, 40 and 45ft sea containers.
Moving containers into the workshop on the short end
"When engineers need to repair the roof or the bottom of a container, they normally have to work on top or underneath it. However, this attachment can rotate the container allowing them to work on these areas as if they were the side of the container, which is far more easily accessed," says Chris. "This makes repairs and maintenance easier and more efficient, helping to increase productivity and contributing to overall safety."