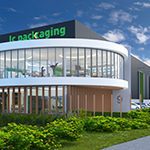 Celebrating its 95th anniversary only last year, the family company is currently building for the future at Logistiekpark A12 in Waddinxveen. Being the fifth generation within the family, CEO Lucas Lammers' three sons had the honour of striking the symbolic first pole in the presence of 100 Dutch colleagues and other invited guests.
Meeting together, working together
LC Packaging will officially move from Nieuwerkerk a/d IJssel to Waddinxveen in 2020. At Logistiekpark A12, the company is building a new headquarters and warehouse: a state-of-the-art building that meets all modern requirements, with a special focus on sustainability and well-being. Lucas Lammers, CEO: "On this new location, we can continue our growing organisation at full speed and safeguard the quality that we strive for every day; in our packaging, in the way we work and in the way we cooperate with others. With our new building, we aim to obtain a BREEAM Outstanding certificate, the highest achievable standard when it comes to sustainable construction. Measures have been taken to minimise CO2 emissions and consumption of energy and water, and sustainable materials are used for the construction and interior of our new building. In addition, the building will be a pleasant place to work. We would like every LC-colleague to go to work with a smile every day."
Added value
The new building will be realised in two phases. During the first phase, more than 11,000 m2 of warehouse space and 3,000 of office space will be realised. In phase 2, another 5,000 m2 of warehouse space will be added. The new building will accommodate LC Packaging Netherlands, LC Packaging International and LC Packaging Global. In phase 1, the warehouse built has a capacity of 29,000 pallet slots and offers a separate printing facility for jute- and polypropylene bags. To make sure that packaging for different industries (e.g. food, pharma or chemicals) is stored completely separately, the warehouse will be split into multiple closed compartments. The advanced SAP Warehouse Management System safeguards full track and trace of goods.
Blending into the environment The building has been designed by architect Quadrant4 and blends perfectly into the environment. De Vries en Verburg are heading up the construction team. The building points to the roundabout at the Logistiekpark A12 and the adjacent water, creating a nice interplay between the building and the water. The large glass walls on the waterfront also create a nice connection between indoors and outdoors.