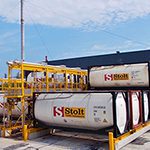 Stolt Container Terminal Pte Ltd (SCTPL) started cargo heating shortly after its establishment in 1987, with 12 heating bays. Now the Singapore terminal has expanded its steam heating facility vertically, to a total of 60 cargo heating bays provided in two tiers.
The SCTPL depot has been delivering world-class services to its customers since it began operations. The facility provides support for all STC activities in Asia and also plays a major role as the training centre for STC staff and for regional depots and customers. Stolt is committed to providing the highest standards of service, quality and safety. Every tank container is handled in accordance with the globally applied operating standards of STC, ensuring quality, reliability and safety for people, the environment and the cargo.
The Singapore depot's heating lines are equipped with step-down regulators that allow the application of different steam pressure to suit different cargo types and different requirements in terms of pace of heat transmission. Cargo sampling is carried out on each laden tank and cargo temperature is monitored throughout the entire heating process.
SCTPL is located in Jurong Island, where major companies including Infineum, ExxonMobil, Chevron, Shell, Lanxess, Afton, Evonik, Mitsui, Sumitomo and Singapore Refinery are operating. The island is linked to the mainland by a 2.3 km causeway, with high security measures. The STC depot provides cargo heating 24/7/365 mainly for the Infineum plant, which is close by. Other tanks are sent to the depot directly or indirectly for heating by numerous other important customers on the island.
The STC depot in Singapore provides cost-effective and environmentally responsible services that are tailored to individual customers' requirements. Covering an area of 20,000 square metres, it offers customers easy one-stop-shop services for storage, heating, cleaning, testing and repairs. The depot and cleaning stations comply with local government regulations, with health, safety and wastewater management being key priorities.