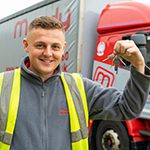 The 22-year-old joined the award-winning Cramlington firm last September as part of the Warehouse to Wheels apprenticeship programme and recently gained his HGV Class 2 licence
As part of the initiative, the driver apprentice, of Ryton, Tyne & Wear, initially joined the team in the distribution depot, providing an appreciation of the wider logistics business as he worked towards his driver qualifications.
Alex undertook his training with commercial transport and logistics training experts Tyneside Training Services Ltd, part of the Gateshead College Group, where he passed his theory test and achieved a Certificate of Professional Competence.
The programme proved so successful that the family-run firm is currently in the process of selecting a new driver apprentice, advertising the position without an upper age limit.
Moody Logistics has strong links with TTS, being one of a number of transport companies which founded the training body during the late 1960s. It was later sold to Gateshead College in 2012 to unlock additional investment and development.
The firm began recruiting in 2015 after recognising that HGV driving apprenticeships were not commonly found within the transport and logistics industry.
Two previous apprentices, Dean Dodd and Steven Hanson, who completed their apprenticeships as HGV drivers with Moody Logistics, have remained with the company and have continued to develop their skills after the apprenticeship moving from Class 2 to Class 1 drivers.
Other companies within the group, which includes Heathline Commercials Ltd and MCR Services are also championing the use of apprentices, having recruited five across a range of disciplines over the last few years.
Richard Moody, Operations Director of Moody Logistics, said: "There is an estimated 60,000 shortfall of qualified HGV drivers nationwide and the Warehouse to Wheels initiative is one way that haulage companies can solve their recruitment needs.
"Alex has, through his work in the warehouse, gained a much more in depth knowledge of the logistics business. He has displayed an excellent attitude throughout and was such a success that we have decided to recruit another driver apprentice.
"There has been a perception that driving an HGV is a declining profession when the exact opposite is true. Qualified drivers are part of a modern hi-tech industry, earning above average wages and benefiting from a range of career opportunities.
"The average age of a trucker is more than 50, so it's vital to bring new people into the industry as any continued driver shortage affects this country's economic fortunes by restricting its ability to move goods."
Alex said: "The Warehouse to Wheels programme has been a very worthwhile experience which, thanks to the support of Moody Logistics, has put me on the road to a new and exciting career."