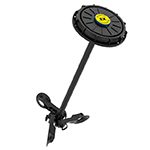 A method that has been used since ancient times is dressing, now also called seed treatment. A special dressing is applied directly to the seed; its purpose is to facilitate mechanical processing and protect seeds against pests and diseases.
Based in Monheim, Germany, Bayer's Crop Science Division is one of the world's leading agricultural companies and specialises in seeds and plant traits, chemical and biological crop protection, digitalisation and has a key focus on sustainable agriculture.
The company regards seed treatment as a comprehensive process that goes far beyond simple product know-how. The company provides training courses to support users, advising on topics that range from the optimum adjustment of dressing systems to relevant aspects of environmental protection. Also on the agenda: the constant development of manufacturing processes through practical experience, on-going research and a continual focus on innovative solutions in other industries.
At the packaging trade fair Interpack 2017, the seed treatment engineers of Bayer SeedGrowth team saw the Schütz Impeller and were impressed.
The single-use impeller, which is integrated in the IBC, makes handling the treatment agent much easier. "Some formulations can separate, especially in large containers. The seed dressing agent may settle if it is stored for prolonged periods. This means that the agent needs to be mixed and homogenised before processing, which is a complex process in an IBC with a volume of 1,000 litres", says Norbert de Baey, seed treatment engineer at Bayer. Until now, special pumps were used for this purpose. The packaging always had to be opened and the pump inserted, which in many respects was a physically arduous task for the operators. In addition, it was almost impossible to avoid the exterior of the container becoming soiled, even if the greatest care was taken. This presented the risk of direct contact with the treatment fluid.
In contrast, IBCs with the integrated Impeller developed by Schütz can remain closed throughout the entire supply chain, from filling to discharge, and still allow the filling products to be stirred conveniently and effectively.
The system is available for all 1,000 and 1,250 litre Ecobulk types with DN 150 and DN 225 filling openings. "This new development seemed to be perfect for our seed treatment agents – a simple, flexible and cost-effective design", was de Baey's initial assessment after the trade fair. In October 2017, Bayer, together with Schütz, subjected the Impeller to a stirring test on the premises of the seed treatment producer Klamroth-Börnecke in Saxony-Anhalt.
"We are extremely satisfied with this test. The Schütz Impeller ensures even mixing and uniform concentration of the active ingredients, allowing the seeds to be optimally coated with the dressing agent. Another benefit is that potential contact with the dressing agent is reduced for users, which is an important contribution to the safety of our customers in everyday use", said de Baey, summing up the positive findings.
Based on this test result, Bayer converted the packaging of its premium grain dressing agent products in Germany to Schütz's IBC plus Impeller system in 2018.