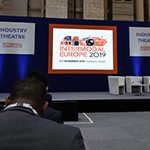 With over 100 companies attending and exhibiting, the hall was filled with industry professionals interested in networking with and selling services to those who attended.
As well as the numerous exhibitors, both the Industry Theatre and Innovation Theatre came with full agendas.
For the Industry Theatre, day one featured a review of global liner shipping, the effects of IMO 2020 sulphur cap on liner shipping and the belt & road initiative forum. The latter included discussions on the latest trends in China's container industry chain, developments in, and the digitising of the BRI project and the new Silk Road.
In the Innovation Theatre, container optimisation and platform collaboration were the topics of choice, with a focus on the zero wastage cargo network discussed by the founder and CEO of Matchlog Solutions, Dhruv Taneja and how to take the risk out of international container logistics from the Managing Director of Container xChange, Christian Roeloffs.
The afternoon gave way to discussions on Blockchain technology and the digitalised supply chain, with discussions from T-Mining CEO Nico Wauters and the Head of Global Trade & Supply Chains for IOTA Foundation, Jens Munch.
Digitalisation of the supply chain was also a common theme in the Innovation Theatre and day two focused heavily on the developments of the Internet of Things within supply chains.
From Jaco van den Hoven, Director of IoT solutions at KORE discussing eSIM to Daniel MacGregor and Marianna Levtov from Nexxiot discussing customer value, independence and quality delivered in times of change, each angle of the digitalised supply chain was either explored, discussed or referred to throughout the day.
Whilst several different companies presented their views, products and various strategies for the digitalised supply chain, the overall message was resounding. Digitalisation, transparency and efficiency is the future of the optimised supply chain.
The driving force behind this is that if consumers can track a £10 package from the moment it is ordered online, to the moment it reaches their front door, why can't this be done with shipments that cost more than 10 times that amount? Access to this data will help to optimise the entire supply chain, which could reduce environmental impacts of bulk transportation as well.
Whilst sensors and smart containers were the dish of the day in the Innovation Theatre, the Industry Theatre focused on developments in box technology and cold chain forums. The latter with a particular emphasis on cold chain efficiency, challenges and solutions in the global reefer market and reefer solutions in a changing environment.
As day three dawned, the chance for last minute networking opportunities arose, as the morning session on the Industry Stage featured a Hamburg Focused Forum. The afternoon brought with it the end of another successful Intermodal Europe.