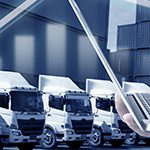 In October the capacity index increased by 15 percent from 96.5 on September to 111 index points. Compared to 2018, the rise in October was also 15 percent.
The transport price index fell from 104.5 to 102.9 index points. This corresponds to a price decline of 1.5 percent. Transport prices were 6.5 percent lower than in October last year.
With an increase of 0.8 percent, the diesel price index changed only slightly compared to September and is 4.5 percentage points higher than the diesel price of October 2018.
Overall, the development of transport market prices and capacities in September and October 2019 followed the trend of the previous year. "The usual seasonal fluctuations were weaker this year. In addition, the increase in capacity is in particular due to empty trucks in the chemical and automotive industries, as well as in the steel and metal sector", says Oliver Kahrs, Managing Director of Tim Consult, a subsidiary of Transporeon.
The increase of transport capacity offered daily on the spot market by shipping companies in the chemical industry was notably strong, at almost 40 percent in October. According to the leading German employers' association (BAVC), the chemical and pharmaceutical industry has been in recession since autumn 2018. The decline in world trade and difficulties in key industries such as the automotive industry, are cited as main reasons for this. "An industry in which the increase in available transport capacity in October was also a strong 15 percent", Kahrs adds. In the steel and metal sector available capacity amounted to around ten percent.
Tim Consult has developed the Transport Market Monitor (TMM) into an interactive web-based analysis tool. With transport data from additional industries and numerous transport routes, the TMM is one of the most powerful tools on the market (source: Transporeon / Tim Consult).
Webinar on current developments of price and capacity in the transport market
Every month, Oliver Kahrs, Managing Director of Tim Consult, informs in detail about the current development of transport market prices and capacities in a 15-minute webinar. Interested market participants can register to participate free of charge. The next webinar will take place on 28 November.