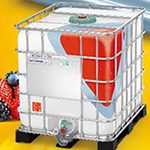 These product lines have firmly established themselves in particularly demanding sectors, such as the food and pharmaceutical industries. In the past few years, the big global players in these industries have increased their demands significantly, frequently even going far beyond current statutory requirements.
With the new Ecobulk Foodcert, Aseptic, Cleancert and Dualprotect, Schütz is now taking things up to the next level when it comes to safety and cleanliness and is expanding the range of applications to ensure even greater sustainability: as a top product innovation, Schütz is now offering these IBCs with a liner system including UN approval, thus ensuring maximum quality protection with minimum effort.
The Ecobulk Foodcert plus Aseptic fully meets the specific requirements in the food, pharmaceuticals and toiletries industries; it effectively excludes contamination risks along the entire supply chain, extends the shelf-life of the filling products and ensures consistent quality from filling to emptying.
All of these benefits have been achieved by including a special component in this IBC model: an integrated liner which is certified in accordance with the FSSC 22000 industry standard that guarantees the highest food safety. The liner is made of top-grade LDPE film; a special folding technique minimises air and allows it to unfold and align itself automatically in the inner bottle during filling. It ensures the highest degree of leakproofness, cleanliness and also has an EVOH permeation barrier against oxygen. The gradual unfolding of the liner also means that contact between the filling product and the ambient atmosphere is kept to a minimum. The result is 99 per cent less exposure to oxygen than in a standard IBC!
Aseptic IBC reduces risk
As a special measure to rule out microbial contamination, during production of the Ecobulk Foodcert plus Aseptic the integrated liner and valves are sterilised by gamma radiation with an average dose of at least 15 kGray. This sterilises the inner bottle, making it suitable for aseptic applications.
The IBC inner bottle also forms a highly effective, independent barrier against leakage, even if the integrated liner is damaged, thus providing double protection for the filling product.
For maximum safety, cleanliness and ease of use, the IBC is delivered "ready to fill". The packaging does not require steam additional sterilisation of the inner bottle or time-consuming inliner assembly, which saves time and money! The Ecobulk Foodcert Aseptic can be filled and emptied on all conventional lines, including with pump systems and under aseptic conditions.