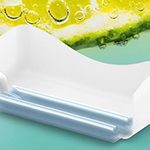 The name says it all: IBCs utilising these products offer double protection for filling products thanks to the integrated liner. The IBC features a leakproof inner bottle, thus effectively avoiding leaks even if the liner is damaged.
The new packaging solution for technically demanding products is extra safe and, because it is delivered "ready-to-fill" and is also exceptionally user-friendly.
Due to its maximum quality protection, the container is ideal for transporting natural and synthetic organic compounds, inorganic compounds and silicones. A good example of an application field is the adhesives industry. The annual volume of adhesives produced in Germany is nearly one million tonnes. When exposed to oxygen, the majority of these products react by forming a film or even starting to cure. The integrated liner minimises oxygen contact during filling as well as inside the packaging, thus preventing the filling product from oxidisation. This extends the product's shelf-life and makes it easier to discharge.
A model with many advantages
In most multi-use systems there is a significant risk of accidental contamination due to product residues. This is ruled out in this model. Filling into the integrated liner minimises the general risk of contamination and there is no risk of the filling product coming into contact with condensate, which can form inside the inner bottle. The liner's oxygen barrier provides additional protection against oxidation, vitamin depletion and microbial contamination. And, unlike other container types, there is no need for nitrogen blanketing. UN approval for hazardous goods transport also applies to the IBC version with a liner.
Easy handling – from filling to discharge
Ecobulks can be filled via the IBC's standard outlet valve or from above via a filler nozzle which is attached to the liner and can be fitted to different bungs as required. For aseptic applications, both the outlet fitting and the bung used at the filler nozzle can be steam sterilised. The integrated liner unfolds on its own as it is filled. The air in the inner bottle is vented by opening the screw cap. Optionally, the container can also be filled from above using the filling nozzle in the liner.
As a rule, the container is emptied easily and safely gravimetrically through the outlet valve. It is securely and rigidly attached to the IBC inner bottle. For liquids with a watery consistency this method achieves almost complete emptying without any other measures being required. For more viscous filling products the cap nut can be loosened and the liner and the outlet valve can be carefully pulled out of the container in order to empty it completely.
Once the IBC has been emptied, the Schütz Ticket Service with its worldwide network provides a fast, administrative-free collection service and then reconditions both the IBC and inner section in an environmentally-friendly process – giving this innovative system both unrivalled economic and ecological benefits.