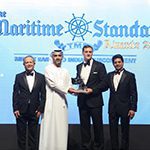 The award was presented to Julien Horn, Director of TTMS (Gulf), TT Club's Network Partner based in Dubai, at a gala dinner held in the Atlantis Ballroom of The Palm. In accepting the award Horn said, "TT Club is greatly honoured to receive such a prestigious award in recognition of its role as the leading insurer in the maritime, freight and logistics sector. TT Club insures many of the region's leading organisations from port authorities to terminal operators, transport and logistics companies to freight forwarders and has done so for over forty years".
The occasion celebrated the achievements of the top performers in the industry in some style. Attended by over seven hundred top executives, the event demonstrated clearly why it has earned the right to be considered the leading awards ceremony for the industry in the Middle East and the Indian Subcontinent.
H.E. Eng. Ahmed Mohammed Shareef Al Khoori, Director General of the Federal Transport Authority – Land & Maritime, gave the keynote speech, saying: "The maritime sector is an important incubator of economic growth and diversification, companies and organisations active in this sector are to be valued and encouraged. That is what these Awards tonight will do."
The awards, held under the patronage of His Highness, Sheikh Ahmed Bin Saeed Al Maktoum, President, Dubai Civil Aviation Authority and Chairman and Chief Executive, Emirates Airline, attracted a high standard of entries for each of the twenty awards presented on the night.
The judging panel had a tough challenge in deciding the winners. The organisers, The Maritime Standard, pointed to the record number of entries of an exceptional quality, meaning those who were successful had to overcome tough competition, whatever the category.