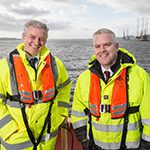 Twenty-five financial institutions are lending money to fund the wind farm which will supply enough low carbon electricity for around 375,000 homes*. EDF Renewables is also announcing that leading Irish energy company ESB is taking a 50% stake in the project.
NnG has a capacity of c. 450 megawatts (MW) of low carbon energy and will offset over 400,000 tonnes of Co2 emissions each year. Construction of components is now underway, offshore construction will start in June 2020 and full commissioning will complete in 2023.
EDF Renewables UK CEO Matthieu Hue, said: "These are hugely important milestones for the project, and a great credit to the EDF Renewables team. We are excited to get work underway with our new equity partner ESB, our contractors, and all Scottish companies and stakeholders participating in the project. The 450 MW NnG project will play an important role in de-carbonising the UK electricity system and is a further example of EDF Renewables continuous investment and growth in Scotland."
Pat O'Doherty, Chief Executive of ESB, says that the significant acquisition represents another key milestone in the company's investment in offshore wind. "Our 50 percent stake in Neart na Gaoithe fits entirely with ESB's Brighter Future strategy to build a balanced low carbon generation portfolio of scale. Offshore wind is one of the main technologies underpinning the clean electricity systems that will power our societies into the future. This investment in the Neart na Gaoithe project builds on significant ESB involvement in offshore wind off the Irish coast as ESB develops its experience to assist Ireland deliver its Climate Action Plan. We look forward to pooling our expertise with EDF Renewables in delivering this major project."
Following successful development of the site, NnG will now move in to a full lease with Crown Estate Scotland to allow the construction and operation of the wind farm, additionally providing new jobs and manufacturing opportunities. EDF Renewables UK has already increased its Edinburgh team from 44 people to over 100 people at the Atria One building in Scotland's capital city.
The project's 54 turbines will be assembled at the Port of Dundee before being sailed to the site and the Scottish engineering firm BiFab will build several of the foundation jackets.
Charles Hammond, Group Chief Executive of Forth Ports, said: "This is great news for Dundee and we look forward to working with EDF Renewables and Siemens Gamesa on this major development that will bring significant benefits to not only the City of Dundee and the port but the whole of Scotland.
Continued investment in our facilities, skills and infrastructure along with our £10m industry-leading heavy lift quayside means the Port of Dundee is well placed to deliver this prestigious offshore wind infrastructure project."
Councillor John Alexander, Leader of Dundee City Council said; "In partnership with Forth Ports and private sector partners, we have been actively promoting the skilled workforce, facilities and opportunity that exists at the Port of Dundee. I am delighted with this latest announcement that recognises those huge assets. It's an incredible vote of confidence for Dundee but importantly, the relationship with the NNG team, EDF and Siemens Gamesa will be a source of strength long into the future. As leader of the city, I cannot underestimate the importance of this announcement."
* Based upon the average domestic electricity consumption per home of 3,889 kWh per the Energy Consumption in the UK (published July 2017) and Renewable-UK offshore wind average load factor at 37.2%