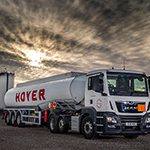 With around 50 sites worldwide, representative offices in 115 countries and partners around the world, the Hoyer Group has access to a steadily growing global network. Joint ventures with strong partners are another key component in the consistent expansion strategy of the Hamburg based logistics specialist. Together with Dupré Logistics, Hoyer consolidates its market position on the North American continent. The Hoyer Group holds 49 per cent of the shares in the joint venture under the name Hoyer Bulk LLC, while the US-American transport company Dupré owns 51 per cent. The company is headquartered in Houston, Texas.
As family-run businesses, the Hoyer Group and Dupré place great value on reliability, safety as well as security and excellent know-how in handling dangerous goods. Both companies are among the market leaders in their operational fields. The Hoyer Group operates road transport in Europe and has at its disposal a sophisticated international network for intermodal traffic linked to its own business area for overseas traffic. Dupré specialises in transport operations within the USA. Together, the Hoyer Bulk LLC joint venture combines the specialisations of the two companies, thus enabling seamless order processing and high transparency. Initial transport movements in the USA will take place from 15 January 2020 onwards.
Ortwin Nast, Chief Executive Officer of the Hoyer Group, says: "Partnership with Dupré is a logical expansion of our internationally aligned overseas activities by providing transport services in the USA. We thereby enlarge our portfolio of services and also meet the growing demand for transport capacities in the US-American market." Mike Weindel, President of Dupré Logistics adds: "It is important to us to know we have at our side a partner that also represents customised logistics and technology solutions. We also give the highest priority to transparency and dependability in our operations. Hoyer has the same understanding, as we immediately noticed."
Through this pooling of expertise and know-how, Hoyer Bulk LLC gives customers a full-service package meeting the highest quality, safety and security standards along the whole supply chain.