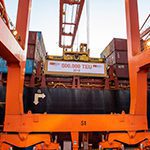 The event, which coincided with the 40th anniversary of the Gydnia terminal, was marked by the loading of the milestone MSC container to MSC Veronique.
Wojciech Szymulewicz, BCT Chief Executive Officer, said: "As a gateway terminal serving the Polish economy, we are extremely pleased to have reached this latest milestone. More than hitting our targets, this new record highlights Baltic Container Terminal's capability to continuously outpace market growth, and our readiness to serve the vibrant Polish economy and the Eastern European markets."
Strategically located within the Baltic-Adriatic corridor, BCT has a current annual handling capacity of up to one million TEUs and has excellent road and on-dock rail connectivity to Europe's hinterlands.
As part of its continuing efforts to boost the port's operations, the Port of Gdynia Authority and the Center for European Union Transport Projects recently signed a contract for the reconstruction and electrification of the port's rail access. An investment expected to cost around PLN 70 million, the rebuilt intermodal terminal will complement BCT's operations from the land side.
To enable BCT to cater for growing demands, in the pipeline is new handling equipment on both sea and landside, rehabilitation of the present quay, deepening of harbor basins, additional storage areas, and state-of-the-art IT systems.
Szymulewicz adds: "Along with further investments in port equipment and IT systems, which are of structural importance for Poland and trans-European transport networks, we continue to work hand-in-hand with our customers to improve the efficiency of our operations and processes, and inevitably further improving the customer experience."