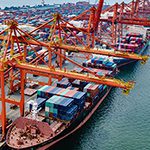 The ASEAN Business Advisory Council (ASEAN-BAC), the lead private sector initiative towards economic inclusivity in the region, awarded ICTSI the coveted Priority Integration Sector Award for Logistics at the recent 2019 ASEAN Business Awards in Thailand. ICTSI was first recognized in 2018, when Singapore led the rotating chairmanship of the regional bloc.
ICTSI is the Philippines' leading terminal operator, having acquired, managed, and enhanced the efficiencies of the country's busiest ports. Replicating its success at flagship Manila International Container Terminal, the Philippines' first port privatisation effort — ICTSI has been raising the flag for Philippine ingenuity overseas across its 32-port, 18-country network.
In Southeast Asia, the Company operates 12 marine and inland terminals – 10 of which are in the Philippines, and two in Indonesia.
Christian R. Gonzalez, ICTSI Global Corporate Head welcomed this latest citation as an affirmation of the Company's efforts: "Beyond profitability, ICTSI recognises the complex role ports play in the region's economic development and the prosperity of communities within which our ports operate. We are encouraged by this sophomore win to empower more sectors and communities with high-performing ports that are supportive of supply chain improvement, and economic growth."
Similarly in 2014, ICTSI led Philippine companies in the ABA as the country's contender for Best in Corporate Excellence, when the annual tilt was held in Naypyitaw, Myanmar.
The ASEAN Business Awards (ABA) recognises outstanding businesses in the region which shown significant progress in establishing and reinforcing their positions in various sectors and has become partners and contributors to regional prosperity.