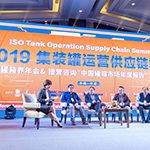 Over the two-day event, 15 guest speakers were asked to share news related to industry trends, business development opportunities and challenges, as well as analysis of the logistics market to the 160 attendees.
Panel forums also took place to allow collaborative discussions between speakers, which included major cargo owners, leading tank manufacturers, strategic consulting companies, influential entrepreneurs and industry experts.
Networking opportunities were plentiful, with 100 companies either exhibiting or attending including BASF, Gentco Logistics, Cosco Shipping, Linde Gas, CIMC, China Petroleum and Chemical Industry Planning Institute, Huawei and Solvay.
Attendees were also given a well-received opportunity to visit Ningbo Dangerous Goods warehouse and the iso tank depot on the 19th December.
Achieving its aim of providing a new business and social platform for enterprises and employees in the iso tank industry to increase communication and business opportunities in both the upstream and downstream areas of the supply chain Isotank.Cn were pleased to report that the summit was a huge success.
With this first event being so well received, guests, visitors and organisers alike are already looking ahead to the Iso Tank Operation Supply Chain Summit 2020.